INSTITUTIONAL CONNECT
Development of Human Action (DHAN) Foundation, Madurai, is a pioneering development institution that aims to build poverty-free, gender-balanced, equitable, ecological-sensitive, democratic, just and value-based inclusive society. DHAN foundation are partners in the school's Rural studio programme, that aims to transcend mere documentation and dwelve into more meaningful and comprehensive understanding of the rural scenario to evolve effective solutions into contextual sensitivity.
C.A.R.E. School of Architecture is a partner in Lens, India-a Learning network in sustainability, an initiative of the European union Erasmus programme which aims to enhance quality in higher education through academic cooperation between the EU and rest of the world. The other partner institutions in the collaboration are (1) IIT, Guwahati, /IIT, Kharagpur (2) Goa school of Architecture (3) Shrishti school of design, Bangalore (4) IIIT, Jabalpur (5) Vasthu Shilpa Foundation, Ahmedabad (6) Hunnarshala Foundation, Kutch, Gujarat.
MOU with Center of Environmental Planning and Technology (CEPT), Ahmedabad, a premier national institute in Architecture Education.
MOU
The school is a part of conglomerate, connected collaborations (CC), with (i) Avani Institute of Design, Kozhikode, Kerala, (ii) School of Environment and Architecture, Mumbai (iii) Wadiyar Center for Architecture, Mysore, as other constituent Members. This conglomerate was formed with the intention to establish potent learning networks amongst schools offering Architectural education and to share experience and Resource for enhanced learning
PROFESSIONAL CONNECT
More than a third of our students bag internships and jobs at the top 20 architectural practices in India and Asia. We thank all the architects from Chennai, Bangalore, Pune, Ahmedabad, Bangladesh and Sri Lanka for supporting us in our endeavour to provide quality education in the discipline of Architecture.
SABA
Spontaneous Architecture Bezalel Academy of Arts & Design (SABA) is an offshoot of the Architectural programme at the Bezalel University, and founded by author and academician Prof. Sharon Rothbard. An international travel studio started with the intent to produce no violent Architecture, Born out of the land, the Spontaneous Architecture studio 2014, was a collaboration with C.A.R.E. School of Architecture. The objective of the studio was to craft pavilions with locally available materials, technology and craftsmen, for the Krishi Vigyan Kendra, Tiruchirapalli.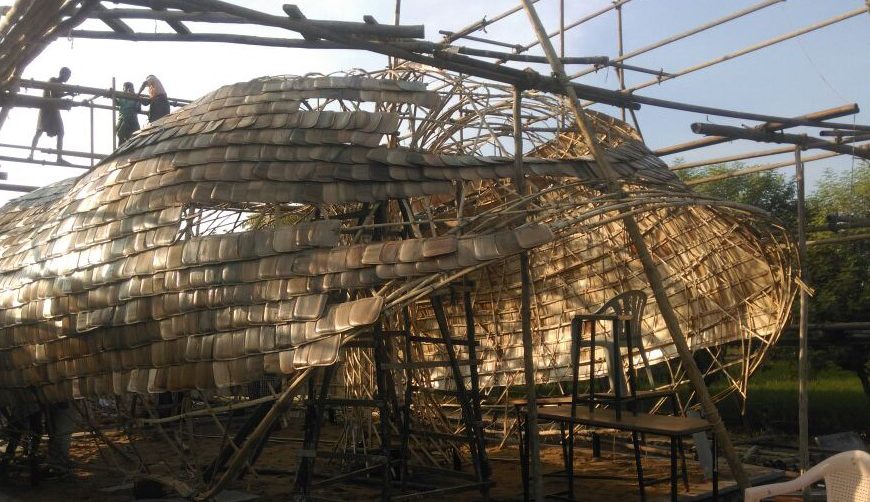 COCOON
COCOON was a cooperation between AARUS, School of Architecture particularly their "context" studio and C.A.R.E. School of Architecture, Trichy, to develop the solutions, which were fit for the design in the local context and for the environment at the agricultural school of Krishi Vigyan Kendra in Tamil Nadu, India exploring bamboo as a building material for complex spatial forms. This first experimental building in bamboo and stone was exhibited at the Milan Design week 2015. Henceforth Cocoon has been presented in many international forums including the world bamboo congress – 2016 and has featured in many national magazines. The Cocoon was recently shortlisted in the top 50 in the FIBRA Awards (First world prize for contemporary plant fiber based Architecture). The finalist building will be presented in a book and a travelling exhibition which is due to open in Paris in August, 2019.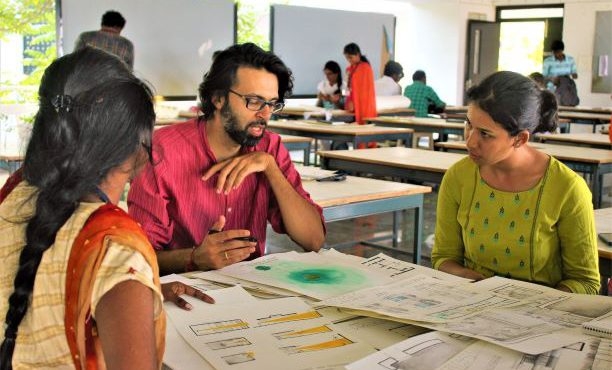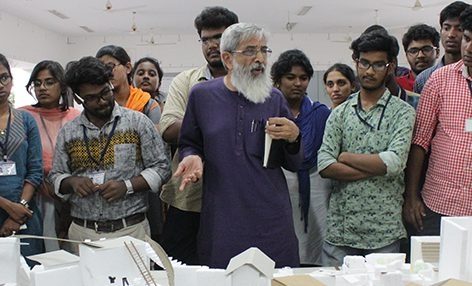 Avani, Calicut – CARE – SEA – WCFA ,Mysore
Four schools of Architecture came together with a mandate of rethinking Architectural pedagogies and tools for a more meaningful engagement with people, place and environment . The theme for this year's studio was 'Care and Connectedness'
Each School hosted two members from partnering Institutions within their fourth semester Design Studios and investigated the ontological questions on learning environments, health, habitation and community.
Chennai Architecture Foundation