Dystopian Summers
A joint studio along with Bezalel Academy of Art & Design, one of the oldest institutions of higher education in Israel and Saveetha College of Architecture and Design(SCAD) Chennai, kick started today with the introductory seminar week. Based on the premise of the current pandemic, the studio running between the 26th of July and the 25th of August, critically examines the role of Architects and Architecture through the writings of Ar.Paul Virilio, academician,
theorist and author.
Structured as a series of lectures that sensitizes students to the idea of Dystopia and the teachings/ methods and pedagogies of Ar.Paul Virilio,This week is curated with an esteemed line of film makers, Writers, Academicians and Architects all experts on the theories of Dystopia.The idea of curation drawn from allied fields is vital to understanding Virilio/ his theories.
Speakers
– Sharon Rotbard (mentor)
– Ethel Buisson
– Noa Manheim
– Maitrey Bajpai
– Ramiz Ilham Khan
– Shuddhabrata Sengupta
– Christian Volckman
– Riyaz Taibji
– Akbar Nazim Modan
– Durganand Balsaver
Participants
– Sowbarnika, 4th year, CSOA
– Shanas, 4th year, CSOA
– Rahul raj, 4th year, CSOA
– Suganesh, 4th year, CSOA
– Pinto George, Teaching Associate, CSOA
– Keerthana Arun, Teaching Associate, CSOA
COLLABORATIVE PROJECT WITH NORTH DAKOTA STATE UNIVERSITY, USA
CARE School of Architecture partnered in a collaborative project with North Dakota State University, North Dakota, USA in developing five software products namely – ArchXchange, Reality Check, Building Architecture Forward LLC, Connect GMK,- ArchiTables App, for design professions in developing economies like India.
As a Part of the studio course, students at the North Dakota State University mentored by Prof.Ganapathy, ideated on potential software products, business strategies, identifying potential markets and barriers to digital trade for their chosen projects. The software products, were developed and implemented using various kinds of software authoring systems, such as MIT's App Inventor, Team from CARE with an advantage of being on ground and closer to the market and with an understanding on how the profession works and professionals function, brought their experience as cohorts along with the student teams from NDSU, in various stages of the projects ranging from studying the market, identifying potential users, conceptualization, content generation, structuring the app and finally testing the software products.
INSTITUTIONAL CONNECT
Development of Human Action (DHAN) Foundation, Madurai, is a pioneering development institution that aims to build poverty-free, gender-balanced, equitable, ecological-sensitive, democratic, just and value-based inclusive society. DHAN foundation are partners in the school's Rural studio programme, that aims to transcend mere documentation and dwelve into more meaningful and comprehensive understanding of the rural scenario to evolve effective solutions into contextual sensitivity.
C.A.R.E. School of Architecture is a partner in Lens, India-a Learning network in sustainability, an initiative of the European union Erasmus programme which aims to enhance quality in higher education through academic cooperation between the EU and rest of the world. The other partner institutions in the collaboration are (1) IIT, Guwahati, /IIT, Kharagpur (2) Goa school of Architecture (3) Shrishti school of design, Bangalore (4) IIIT, Jabalpur (5) Vasthu Shilpa Foundation, Ahmedabad (6) Hunnarshala Foundation, Kutch, Gujarat.
MOU with Center of Environmental Planning and Technology (CEPT), Ahmedabad, a premier national institute in Architecture Education.
MOU
The school is a part of conglomerate, connected collaborations (CC), with (i) Avani Institute of Design, Kozhikode, Kerala, (ii) School of Environment and Architecture, Mumbai (iii) Wadiyar Center for Architecture, Mysore, as other constituent Members. This conglomerate was formed with the intention to establish potent learning networks amongst schools offering Architectural education and to share experience and Resource for enhanced learning
PROFESSIONAL CONNECT
More than a third of our students bag internships and jobs at the top 20 architectural practices in India and Asia. We thank all the architects from Chennai, Bangalore, Pune, Ahmedabad, Bangladesh and Sri Lanka for supporting us in our endeavour to provide quality education in the discipline of Architecture.
SABA
Spontaneous Architecture Bezalel Academy of Arts & Design (SABA) is an offshoot of the Architectural programme at the Bezalel University, and founded by author and academician Prof. Sharon Rothbard. An international travel studio started with the intent to produce no violent Architecture, Born out of the land, the Spontaneous Architecture studio 2014, was a collaboration with C.A.R.E. School of Architecture. The objective of the studio was to craft pavilions with locally available materials, technology and craftsmen, for the Krishi Vigyan Kendra, Tiruchirapalli.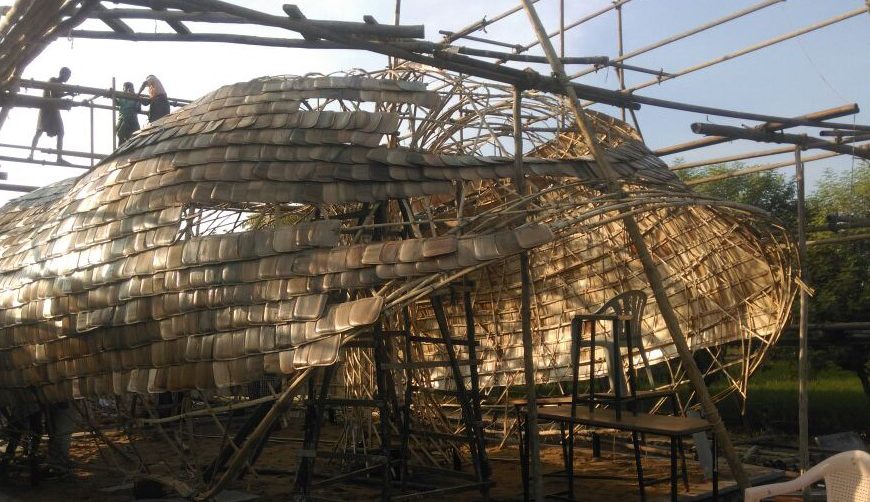 COCOON
COCOON was a cooperation between AARUS, School of Architecture particularly their "context" studio and C.A.R.E. School of Architecture, Trichy, to develop the solutions, which were fit for the design in the local context and for the environment at the agricultural school of Krishi Vigyan Kendra in Tamil Nadu, India exploring bamboo as a building material for complex spatial forms. This first experimental building in bamboo and stone was exhibited at the Milan Design week 2015. Henceforth Cocoon has been presented in many international forums including the world bamboo congress – 2016 and has featured in many national magazines. The Cocoon was recently shortlisted in the top 50 in the FIBRA Awards (First world prize for contemporary plant fiber based Architecture). The finalist building will be presented in a book and a travelling exhibition which is due to open in Paris in August, 2019.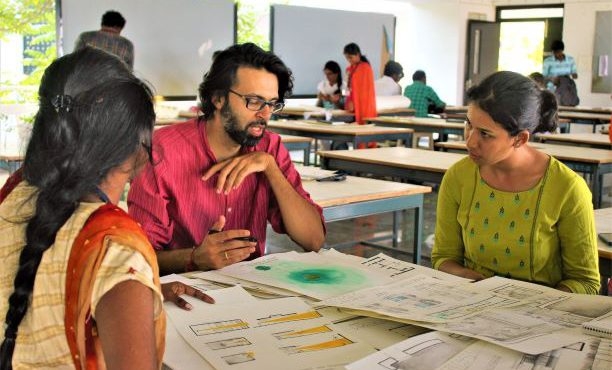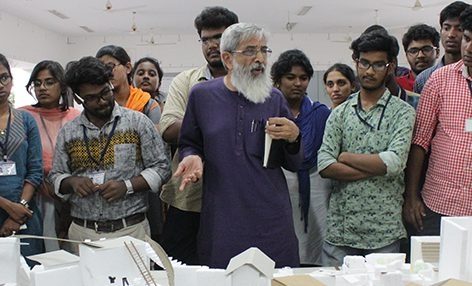 Avani, Calicut – CARE – SEA – WCFA ,Mysore
Four schools of Architecture came together with a mandate of rethinking Architectural pedagogies and tools for a more meaningful engagement with people, place and environment . The theme for this year's studio was 'Care and Connectedness'
Each School hosted two members from partnering Institutions within their fourth semester Design Studios and investigated the ontological questions on learning environments, health, habitation and community.
Portfolio'19 by Chennai Architecture Foundation
The school was invited by the Chennai Architects Foundation to be a part of Portfolio 19,the second edition of the Annual Exhibition of academic works by the Schools of Architecture from across the state of Tamilnadu. The main intent of the initiative was to bring together educational institutions offering architectural discourse under a common platform ,thereby facilitating exchange of ideas and inturn learning from each other's works.Organized over three days,this non competitive exhibition of students works included workshops by eminent professors from CEPT,Ahmedabad and an Architect's clinic which enabled students to have one on one conversation with established architects from the city.This is the second time in a row that the school has been invited to participate and showcase its student's work in this Annual Exhibition series by CAF.
CAF is a not for profit organization established in 2007 to promote architecture, urbanism and education. It facilitates and promotes critical public engagement with built environment issues by organizing lectures, discussions and events. CAF addresses professionals, city mangers and public alike and spotlights the importance of design in enhancing the quality of cities and life in them.